Peanuts and Monkeys: Three Good Reasons why 'Crowdsourcing' Your Company Logo Design is a Bad Idea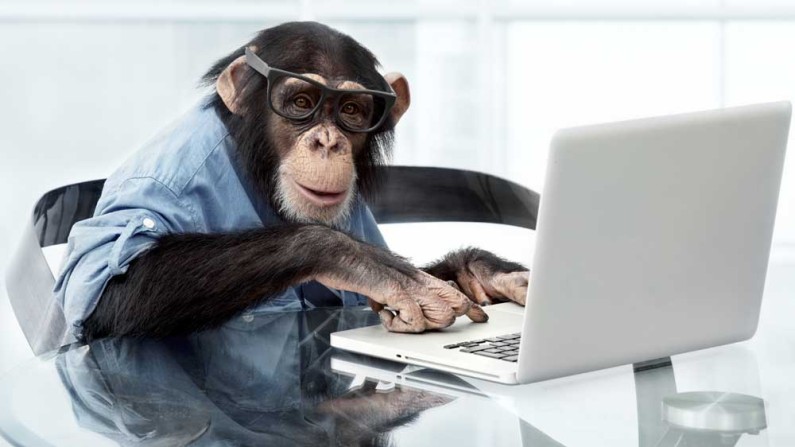 'Crowdsourcing Logo Design'. Three words guaranteed to get an emotional response from anybody involved in the design and branding industries.
Yes, we all get it. As they say 'times are hard' in this new, COVID-dominated world. With global inflation taking off and costs rising when you're trying to start a new enterprise, you need to watch expenses. And maybe you're not totally convinced that your new business idea will even work out. So what's wrong with setting up a 'logo design competition' on a crowdsourcing platform and paying a nominal fee to choose from a range of logos prepared by a host of keen and willing 'professional designers'?
1. Time is Money
First and foremost, you're asking somebody to put their time, effort and (hopefully) expertise into producing something that, in all probability, they won't get any reimbursement for. After all, there can only be one 'winner' so everybody else has to miss out. Or, to put it another way, how much time and effort would you be prepared to put into a piece of work when your application is going to be pitted against an unknown number of opponents, you have no 'right of reply' or forum to explain your design idea or process, and and your chances of realising any return on the time and effort you have invested is, at best, 'minimal'?
Many designers on crowdsourcing sites know that it's very likely that that there won't be any financial reward for the time they put into submitting a design for your consideration. So they cut corners. They do minimal research, they have a look in their 'parts bin' of rejected designs to see if there's anything suitable that they can modify to fit the bill and if there isn't they check the market to see if there are any designs out there that they can 'borrow' and tweak (plagiarise) to fit your brief. They will do all they can to minimise the time they spend on what will probably not be a winning submission.
Then consider the time that you have to spend sorting through the tens or hundreds of designs that come through your inbox. Many participants in your competition won't have even taken the time to read the brief (although this could also be due to the fact that for many of them English is a second language). So after you've taken those possibilities out of the mix, what do you do with the ones that might have potential? Crowdsourcing sites won't allow you to 'mix and match', taking the best parts of different designs (which is actually the most 'ethical' thing about them). So how much of your time will it take for you to pick the winner? And, having selected your winner, how easy is it to get something that you can actually work with in the 'real world'?
To put it another way, "if you pay peanuts, you'll get monkeys".
2. Does your Designer understand your Business?
Respondents to your 'logo design competition' might even be formally trained in the design of graphics (there are more than a few self-taught hobbyists in there too) but how much 'real world' experience do they have? What do they know about your business and the market you operate in?
In the interests of executing the brief quickly and moving on to the next assignment, many designers on crowdsourcing sites will look to produce the logo you described or requested as quickly and expediently as possible. Realistically a Crowdsource competition entrant could spend as little as thirty minutes to produce a design. While this might seem to be a good thing from an economic point of view (yes, it's costing you less and you're happy that you're not being 'ripped off'), it limits the chances of getting something truly unique at the end of the process.
In the 'real world' a competent freelance designer with minimal overheads might allow 15 hours to come up with an original concept, creating a 'cheap' logo design that will cost in the vicinity of $800 – $1000. This allows the designer time to come to some understanding of your business, do some researching and brainstorming and come up with a few options. Allowing for minor revisions, the end result should be a good original starting point for a small business.
A good designer is looking for the best way to showcase your business and make it stand out, not a 'quick result'. Challenging expectations, considering possibilities that you might not have thought of and producing 'outside the box' solutions can be a bonus, often result in a superior outcome that may be beyond the limits of the original brief. After all, the ideal outcome is to create something that is memorable, not just another logo.
3. Is your business going to be 'brand ready'?
Logo design is not the same as designing a 'brand'. Designing a brand includes logo design plus a load of other stuff. Not only does a brand image designer investigate what your business actually does, he or she will consider what your competition is doing in the marketplace and will look for key 'points of difference' that set your business apart.
In fact, the logo is only the starting point of marketing your business. Normally consideration is given to how the logo fits within a developing 'brand' that forms a unique business identity. Consideration is given to the design of visual elements and layouts that support the logo, covering everything from business card to website design and vehicle signage. A brand image also includes colour palettes, typefaces that should be used and what images are chosen.
A well-developed brand image should set your business apart from the opposition. Brand experts use a combination of unique and well-thought design, carefully-selected graphics and 'tone' (use of language) to create a unique identity and 'story' for your business. In an ideal world this takes time, often involving 'focus groups' and feedback cycles that are impossible to implement properly in a crowdsourcing setting.
Ultimately though, a brand depicts the 'face' that your business presents to its customers. And it's also a reflection of how your customers view your business and its values. So what business owner wants that first impression to be, dare we say, 'cheap'?
When the time comes to promote your brand, chances are a crowdsourced logo won't fit with your brand story.
In Summary:
Putting it simply, crowdsourcing works on the principle that if you have a big enough selection of ideas available to pick from one of them will indeed be 'gold'. While it's theoretically possible to get a world-class logo designed through crowdsourcing, the chances of this actually happening are very unlikely. One might even say that it's on a par with the well-known 'Infinite Monkey Theorem'. With that in mind, I'll leave the final word on this to author Douglas Adams:
"Ford," said Arthur, "there's an infinite number of monkeys outside who want to talk to us about this script for 'Hamlet' they've worked out".